Public Art > Avant-garde Walk a Venezia
Venice, Italy, 1995
The exhibition "Avant - garde Walk a Venezia", which took place during the opening days of the two year anniversary of the Venice Biennale, was an invitation to walk in this city in an unusual way. Instead of showing a panorama of contemporary art in an enclosed space, the ambition was to give the artists the opportunity to create their work within the gardens and courtyards of private houses. The first catalogue published showed the empty spaces and the artists' projects. This second volume shows the realized works of art. It was impossible to reproduce Kristin Oppenheim's sound piece. Other artists previously chosen were unable to participate for reason beyond our control and so are not present in this second catalogue.
This exhibition marks the beginning of unusual artistic walks which I shall be organizing worldwide in the future. The second walk will take place in SoHo, New York in May 1996; the third one will be in Geneva November 1996 then in Kyoto during the Spring of 1997.
These walks show how today's artists, in various manners, including performances, installations, video, sounds... can rediscover the poetic aspect of the work of art Sometimes a political approach can be taken but never with provocation. These works open the door of reflection to the viewer. Each chosen cities will allow different vision obviously related to their individual history.
Marc Pottier
New York, December 1995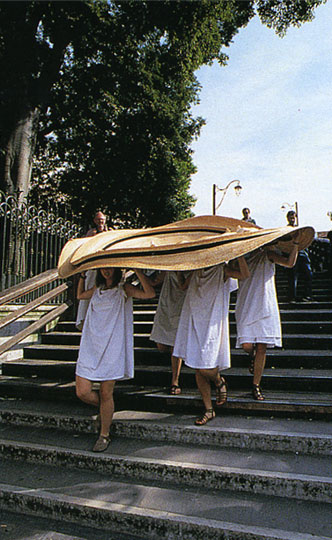 Tunga