Public Art > Walk on the SoHo Side
New York, May 4 - 12, 1996
After "Avant-garde Walk a Venezia", "Walk on the SoHo Side" is the second unusual art walk which I have curated. Although very different, this second walk is still showing how artists work in an outdoor environment within the specificity of a city and it's features. Venice offered a poetic focus, New York and especially SoHo involved a more "political" situation: the character of SoHo, temple of the art world is once again changing. Galleries are moving to Chelsea, shops and restaurants have totally altered the neighborhood.
The works of art and installations had to compete with, or appropriate the energy of the city in order to capture the attention of an audience. In the making of this exhibition we encountered many difficulties which had to be contoured or adapted to. Though Venice provided numerous poetical and magical exchanges, this project brought forth a different tone, one which could be defined by its ingenuity. From walls to sidewalks, storefronts to doorsteps, the works transformed the city into a new landscape. This catalogue translates the walk into a book bringing together the broad range or experiences.
In Venice, artists were invited to create site-specific installations and performances. Aside from this, "Walk on the SoHo Side" explored a new concept: light installations. This expanded the exhibition to night walks, a dimension which will be developed further in the future.
I have invited the photographers Sophie Fenwick, Peter Norrman and Holger Thoss to give their vision of the show in realizing this catalogue.
The third art walk will take place in Kyoto, Spring 1998.
Marc Pottier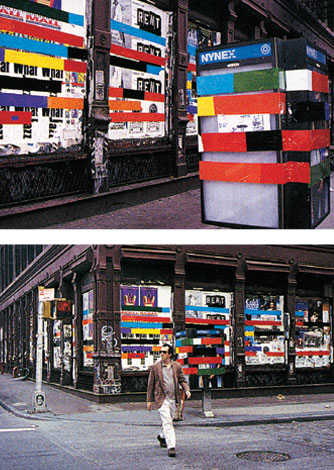 Stephen Dean